Properly feeding a foal
A foal's diet begins in its mother's womb and changes throughout its development. For that reason, it's essential to adjust the nutrition of the broodmare and the foal at each new growth stage.
Newborns
Colostrum, the first milk produced by the mare, contains a significant amount of antibodies that protect a foal from pathogens in its environment. It also contains enzymes, hormones and growth factors responsible for the development of the foal's gastrointestinal system.
The absorption of colostrum decreases significantly within the first 12 hours following foaling. During its first six hours of life, a 100-lb foal should consume around 250 ml of colostrum every hour, that is, 1,500 ml per 100 lbs of weight.¹
From two months to two years
Within the first two months of its life, a foal goes from an all-milk diet to a mixed diet of milk and solid feed. After weaning, a foal consumes only solid feed.
Around age two, some horse breeds have nutritional needs comparable to those of an active adult horse.
Energy requirements
The calorie requirements of a growing foal vary according to its age, weight, breed and environment. They also vary from one foal to another, according to each one's metabolism.
It's crucial to choose the right amount of calories to give a foal to avoid energy deficits that can lead to stunted growth, or excesses that can result in developmental orthopedic disease (DOD), such as osteochondritis dissecans (OCD).
A foal's body condition must therefore be regularly assessed, and the quantity of feed adjusted accordingly. It is also important to choose feeds that have a low or moderate glycemic index. A diet too rich in sugars can also contribute to the development of DOD.
Protein requirements
Protein consumption directly affects a foal's growth. Proteins are necessary for building muscle mass and synthesizing new tissues, enzymes and hormones.
The quantity of proteins given and essential amino acids, such as lysine and methionine, are vital for achieving optimal growth. The use of legume forage (clover, alfalfa) and a complete feed for foals that contains a high percentage of protein can help meet a foal's needs.
Micronutrient requirements
To ensure a foal's healthy growth, it's essential to meet its vitamin and mineral requirements. For example, calcium (Ca) and phosphorus (P) play an important role in a foal's skeletal and physiological development.
A deficit of or imbalance in these two minerals can lead to bone deficiencies with serious consequences. As in humans, vitamin D helps with calcium absorption. The quantities and ratio of zinc (Zn) to copper (Cu) must also be taken into account, since they also have an impact on cartilage and bone development. The Zn:Cu ratio should be around 4 to 1.
Foals are born with low immunity. Since they are exposed to several sources of stress during their youth, their diet should contain enough selenium and vitamin E. These micronutrients play a key role in supporting the immune system, the integrity of the skeletal and cardiac muscles, and the development of the overall musculoskeletal system.
Incorporating Develop feed into the ration of a growing horse is a simple, safe and effective way of meeting its nutritional needs and ensuring optimal growth.
Feeding a foal and preparing it for weaning
From the first few months of life, a foal can be introduced to solid feed such as forage and concentrates. By imitating its mother when feeding, a foal develops its taste and gradually adapts its digestive system to its future diet. This step is essential in preparing the foal for weaning. The same phenomenon must take place with regard to water consumption.
A creep feeding station that only the foal can access because of its small size should be set up. This prevents the mare from eating the foal's ration, and encourages the foal to become more independent from its mother ahead of weaning.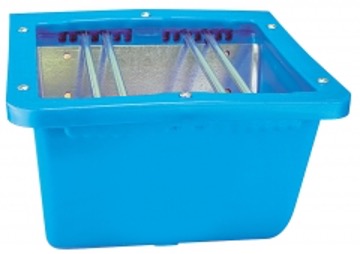 If building a creep feeder is not possible, there are other options, such as adjustable feeders or feed bags.
The hierarchy within the herd and among the foals must also be taken into account to ensure that every foal receives the right amount of feed each day.
Don Kapper. Feeding the Suckling, Weanling and Yearling plus Managing and Feeding the Orphaned Foal. Equine Guelph and Open Learning and Educational Support.
---