Grain
Through its Sollio & Grains Québec partnership, Sollio Agriculture offers field crop farmers the best terms of sale for their grain crops while ensuring an efficient procurement for the feed, export, and industrial markets.
A matter of prosperity
Every day, our advisors help grain farmers take advantage of market fluctuations to become ever more innovative and successful.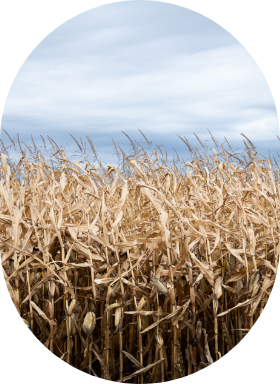 Procurement
Our procurement team buys the grain used to produce animal feed in our mills.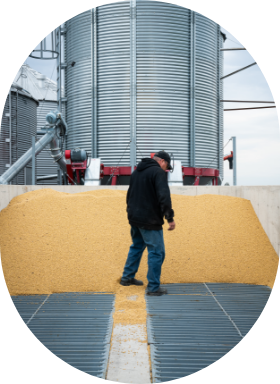 Merchandising
Our grain merchandising advisors serve our customers in the feed, food, export, and industrial markets.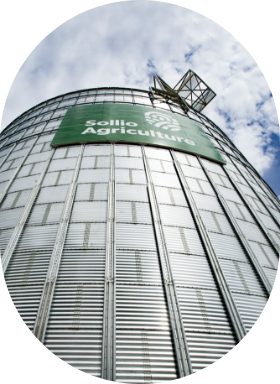 Storage
To ensure security of supply for our customers, we offer a storage service for grain that cannot be stored on their farms.
Corn
Corn harvests tend to exceed demand, making it possible to export corn to other provinces or countries when market conditions allow.
Soybeans
While the domestic oil crushing (oil extraction) market uses a significant proportion of this crop, the export market remains key for soybeans.
Wheat
Locally grown wheat is mainly used for food and feed production.
Barley
Depending on the cultivar, barley is used in feed production and in small-scale and industrial malting.
Oat
Our cultivars and northern climate allow us to grow high-quality oats that are highly sought after for human consumption.
Canola
Canola is one of Canada's biggest crops, and most of the production is exported to countries around the world.
Specialty grains
We are developing a market for speciality grains, which are increasingly in demand.
Certifications and memberships in organizations
Through certifications and memberships in various organizations, we show our commitment to prosperous, forward-looking agriculture.
Administrative offices
This is where employees who administer merchandising and transactional activities keep a close eye on things.
Grain terminals
Grain and cereal crops grown in the area arrive at the terminals by road, rail, and sea. From there, they are exported to international markets.
Elevators and distribution centre
These are the drop-off and departure points for our extensive merchandising network. This is where we receive the dried and cleaned cereals for distribution to local markets.
By sea
Sollio Agriculture has port facilities strategically located along the St. Lawrence Seaway. This provides a competitive advantage and significant benefits to our grain farmers.
By land
Within Québec, our farmers' crops are mainly traded by truck.
By rail
For interprovincial sales and imports, grain is mainly transported by rail.
A digital portal that makes life easier for farmers
The AgConnexion grain portal allows farmers to view real-time prices and sell grain. This platform includes a price comparison and transaction tracking tool, making it a complete solution to help grain farmers sell their crops at the best price.
Explore AgConnexion
Personalized support
Our merchandisers are always there when you need recommendations on grain procurement, merchandising, and storage.